Getting Started
Click the URL provided during installation to open the GeognoSIS Manager home page.
TIP: The URL is simply the server name and port number of the administration instance (set during installation):Eg: https://Companydrt:4554/Apps/Manager
When opening GeognoSIS Manager, remember to log on as 'administrator' and use the password set during installation.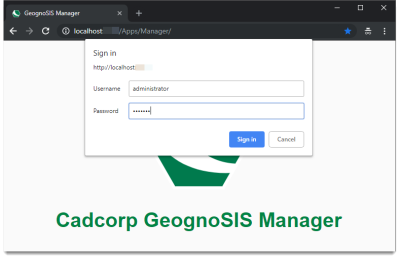 On successful login, you will be taken to the home page. From here you can create and manage all your instances.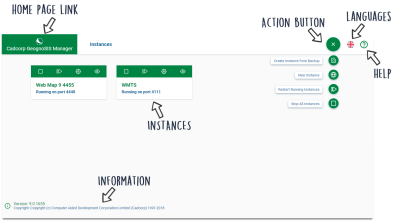 Action Button:
The action button on the top right corner acts as the main menu inside any GeognoSIS screen. Click the button to access all major options.
Languages:
The Cadcorp GeognoSIS interface now supports a host of languages in addition to English: Dutch, German, French, Spanish and Japanese.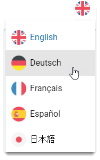 Instances:
Each individual "box" you see on the home page represents an instance you have created. Use the View button

to view and edit the instance information. Use the Properties button

to view and edit the instance definitions.
Home Page:
The home page button

is visible on every screen inside GeognoSIS Manager. Just click this button return to the home page.
---