Oracle Network Model
The Oracle 11g Network Model supports direction information but not node junction information.
Select Add Overlay > Databases > Oracle Network Model.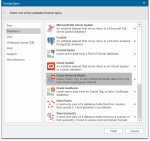 The load performed into SIS Desktop is the equivalent of a one-off import; this means the whole table is loaded into SIS.
Hence you may find there is a considerable delay while the table is loaded. The dataset will be read-only and will require a further export to update any changes.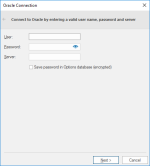 | | |
| --- | --- |
| Option | Description |
| User | Oracle user name |
| Password | Password for the Oracle account |
| Server | Oracle server to be used. This is sometimes referred to as the 'Net Service Name' or 'Host String' |
| Save password in UI settings database (encrypted) | Check this tickbox to store password in Cadcorp SIS Desktop's UI settings database. The password will be stored in encrypted form for security. |
Click Next to open the Oracle Spatial Network Data Model dialog.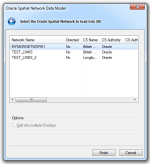 Select the Oracle Spatial Network to load into SIS Desktop and click Finish.
---