Raster Index

Click Add Overlay > Files > Raster Index to index all raster files in a folder, optionally checking all child directories.
Supported formats are:
.tif, .tiff
.img
.hdr
.ecw
.sid
.jpg, .jpeg
.png
.gif
.jp2, .j2k, .jpc, .jpx, .jp2
Use the file browser to access the folder for indexing.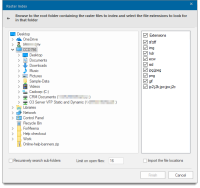 Select the required location.
Check the option to Recursively search sub-folders and/or Import the file locations if required.
Set the Limit on open files.
Click Finish.
---