Map Window commands
There are two ways to select graphical items in a Map Window:The Map Window is the default display window for all graphical items.
Use the left mouse button and then press the right mouse button to see a local menu.
Press the right mouse button when the cursor is over the item to open the item's local menu.
The local menu appears next to the cursor and will contain commands applicable to the selected items.
If the selected items are all of the same Item class (e.g. Polygon) the commands will be directly on the menu.
If the selection is a mixture of Item classes, the local menu will have several sub-menus containing the commands relevant to each selected Item class.
To see the default local menu click the right mouse button when there is a map on the screen but no items are selected: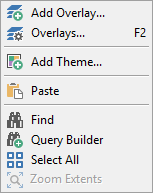 A local menu for a selected editable
LineString item might look like this:

A local menu for a selected editable
Polygon item might look like this:

A local menu where a Polygon and a
LineString item are both selected and the
LineString item is then selected with the
right button might look like this:

A local menu where a Polygon and a
LineString item are both selected and the
Polygon is then selected with the right
button might look like this:
---