Local KnowledgeTM
Local KnowledgeTM uses spatial queries to give you invaluable information on local areas and communities.
There are different ways to pick a location to generate Local Knowledge results.
Search for a location using the Quick Search bar at the top of the page.
Move and pan the map to the desired location. (results are updated dynamically as you move around the map)
Use Place Point (only on mobile devices) to precisely select a location.
Now select Local KnowledgeTM from the drop-down menu to view the results. The current location (center of the active map view) is used to generate Local KnowledgeTMresults.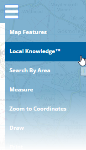 About My Property (AMP) and Find My Nearest (FMN)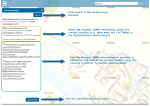 Note: Each record in the list is a clickable link that will take you instantly to the result's location.
---