Map Settings
Settings for the current map can be managed using this option.
Select General Settings > mapName Settings.
Note: The menu will display the name of the current map (FirstMap in this example). To change this, see Maps > Select Map.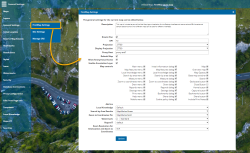 Field
Description

Description

Enter descriptive text to share more information about the contents of the map.

Kinetic Pan

Creates a fluid panning experience.

By default, a map stops panning instantly when the mouse button is released. With Kinetic Pan enabled, panning movements slow down gradually and seamlessly. 

DPI

Dots per inch (DPI) is set to 72 by default for the Cadcorp SIS WebMap site. DPI must be the same for all base layers used in the map.

Projection

The projection is the EPSG code of the map; this should match the code of the data and base mapping you wish to view on the site.

For example if you are using British National Grid it would be 27700 or if you were using Google or Bing base maps it would be 3857.

The Projection drop-down menu lists all available EPSG codes. Related Topics

Display Projection

This is the projection that the map is 'perceived' to be in (the actual map projection could be 3857 to allow Google base mapping but the display projection could be 27700 so that returned coordinates are given in British National Grid.)

Cadcorp SIS WebMap uses proxy.axd? to allow cross domain scripting. If you prefer, this can be changed to the name of your own proxy.

Allow Embedded Map

Introduced in WebMap 9.0.2167, this option allows the administrator to define which Maps can be used as embedded maps.

The enabled map will also be available for use in Cadcorp SIS WebMap for Power BI visual.

Default Map

This is the default map loaded when users access the map.aspx page. Tick the checkbox to set the current map as the default map.

If a user cannot access the default map, they will be redirected to the default.aspx page. This page offers a choice of other maps.

Allow Anonymous Access

Allows map access to users when no authentication method has been set.

If using Forms or Windows authentication, DO NOT choose this option.

Enable Annotation Layer Checkbox

Choose to display checkbox for user's annotation drawing layers.

Map controls

The features and services available on your Cadcorp SIS WebMap application can be controlled on a map-by-map basis. Features that are ticked will appear on your site when this map is opened:

Add Ins

Use the options in the drop-down menus to customise any available add-ins. You can set options for Local Knowledge, choose pins for Search by Area and Zoom to Coordinates and even set a watermark for the map.

Zoom Resolution for Geolocation and Zoom to Coordinates

Set the Zoom level resolution for these two options.
---