Add Icons
To use custom icons in WebMap maps, add them as images to the config database.
Select Icons > Add Icons from the drop-down menu: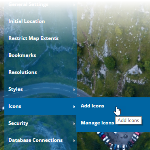 Click Add and select your image from the file browser. All major image formats are supported.

Press Open to upload the icon to the webMapLayersConfig.db. The selected icon will now be added to the Add Icons dialog.
The offset is defined in pixels from the TOP LEFT corner of the image
Icon? is selected by default so the uploaded image can be used as an icon in the Draw dialog and for other styles.

Click Start to upload the chosen icon and activate it on your Cadcorp SIS WebMap site.
---