Initial Location
Use this option to display a specific location when your users launch WebMap.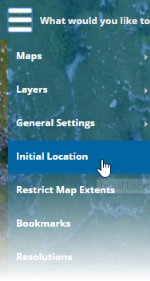 The Set Initial Location map and dialog will be displayed: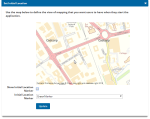 First ensure the Current Map (seen on the top banner of the admin page) is set to the one you wish to edit.

(Maps > Select Map)
The embedded map in the options window is dynamic. Click and move the map to pan to a desired location.
You can opt for more precision by placing a marker on the exact location. Tick the Show Initial Location Marker checkbox. Choose your desired marker from the Initial Location Marker drop-down list.
Click Update.
Available markers are stored in the Icons table in the config.db.

Related Topics
Note: When Cadcorp SIS WebMap starts in Mobile Interface, Geolocation automatically moves the map to the user's current location. If coordinates are supplied on the URL, these will override Geolocation.
---