Removing social media icons from the Share dialog
Users can share specific maps on social media channels like Facebook or Twitter. To comply with your organisation's policy, you can choose to display these options or remove social media sharing.
TIP: See also Share

To hide the social media icons open General Settings > Site Settings and locate the Cadcorp.Web.UI.Share.HideSocialMediaButtons entry. Click on the value field and change it from false to true and press Enter. (True hides the icons, False displays them.)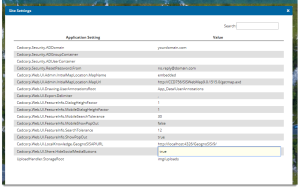 The icons will be removed in the user's Sharing screen.

---