Themes
A Theme handles the display of items like Brush, Pen, Symbol etc.
Themes also annotate items with information like Bar Charts or Pie Charts.
Use Home > Map > Add Theme to add a theme.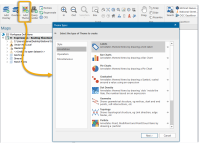 Select from the different theme types available.
TIP: For more information on each theme type, see here.

---