Polygon
A Polygon item is a distinct class of item with its own set of properties. Polygons have one or more closed 'loops'.
To create a Polygon:
Select Create > Simple > Polygon.

Begin drawing your polygon freehand in the map window.

TIP: This dialog remains open allowing you to edit Polygon parameters even during usage.
TIP: Closed LineString items created with LineString and Freehand are not Polygon items. However any LineString item (closed or not) can be converted into a simple Polygon item using the Convert to Polygon local command.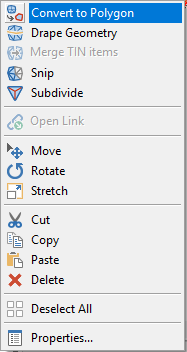 Use this option to construct Polygon items for defining enclosed areas. The Polygon can be used with tracing, route-finding and orthogonal graphics.
---