LIDAR (*.las)
This is high-resolution height data captured using airborne Light Detection And Ranging (LIDAR). It is supplied from Infoterra and the Environment Agency in tiles as digital elevation models (DEMs), digital terrain models (DTMs), and contours.
See also - http://www.lasformat.org/

This is a memory-based dataset.
Procedure to configure and load a LIDAR (.las) file
Click Add Overlay [Home-Map] to display the Overlay Types dialog.
Select File from the Files tab and click Next.
The File Browser dialog will be displayed: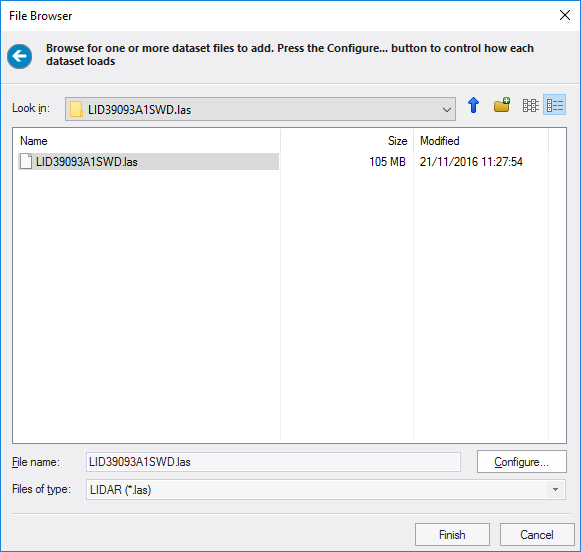 Navigate to the location of the .las file, select the file and click Configure.
The LIDAR Configuration dialog will be displayed: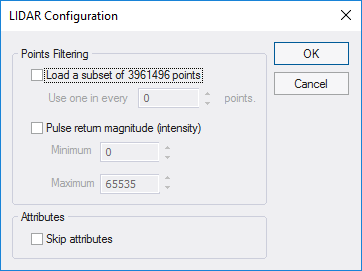 The Points can be configured as follows:
Load a subset of the number of points in dataset
Load a subset of the dataset considering one point in every set number of points, range 0 to 99999.
Pulse return magnitude (intensity)
Consider only return pulses within a specified magnitude (intensity), range 0 to 65535.
Skip attributes
Do not consider LIDAR attributes, i.e. Intensity, return number, number of returns, point classification, scan angle and direction, etc.
Click Finish to load the dataset.
Compatibility:
Cadcorp SIS Desktop
Cadcorp SIS Desktop Express
Cadcorp SIS ActiveX Modeller
Cadcorp SIS ActiveX Manager
Cadcorp SIS ActiveX Viewer
Cadcorp GeognoSIS

---