Settings
Select Settings from the drop-down menu to customise SIS WebMap.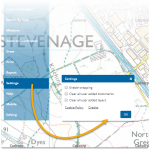 Enable snapping
Snapping simply means your drawings 'snap' to the nodes and vertices of features. Tick the Enable Snapping checkbox to turn on this feature.
Note: See also Overlay Properties

Clear all user added bookmarks
Tick to clear bookmarks you've created. Use with caution as this removes all personal Bookmarks in a single click.
Clear all user added layers
Tick to clear any extra mapping layers you've added with Map Features > More mapping.
Cookie Policy
Click to view the cookie policy for SIS WebMap9.
To tailor your policy for your organisation, click here

---