Search By Area
Search By Area allows simple, intuitive spatial searching on multiple overlays.
To configure this search functionality, click here

Select Search by Area from the drop-down menu.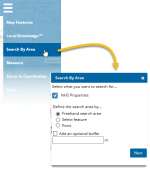 Select what you want to search for by ticking the check box next to the layers (NHS properties is shown as an example).
Define the extent of the search by:

Drawing a freehand search area (or)
Selecting any available feature (e.g NHS properties, brownfields etc) (or)
Specifying any point on the map.
Choose a buffer area to include results just outside the specified search area (optional)
Note: The maximum number of attributes that can be returned is 200.
Searches are saved locally for the duration of the session and can be found on the bottom left of the SIS WebMap display: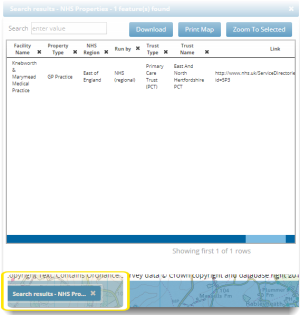 Working with the Results
The results are shown in a dynamic table; you can sort, re-arrange and toggle attribute visibility or even export the results to an Excel-friendly CSV file.
Search: Use the Search box to search for any keyword across all columns.
Removing Columns: Click on the x next to each attribute in the column header. Removed columns are not shown in downloaded CSV files.
Downloading Results: Select Download to save displayed results as a .CSV file. If a filter has been applied to the results, this will be applied in the saved file as well.
Print Map: Click Print Map to use printer or save as PDF. Use this option to include your search results in your print out. See also Printing.
Zooming to Selected: Select any item in the search results and click Zoom to Selected to center the map on the item location.
---