Overlays
Click Home > Map > Overlays.

Use the Overlays options to:
select which datasets are used in the current SWD
add further overlays to those used in the current SWD
set up and control the properties of overlays, e.g. to assign overlay pens and brushes, to rename overlays, to assign notes to them to control the display of items on the overlay, etc.
create user overlays
create schemas and themes
TIP: Before using any of the tabs in the Overlays dialog ensure you have first selected the right overlay.
Here are some more ways to access Overlay settings.
press F2 when the focus is in the map window
choose Overlays from the default local menu (click the right-hand mouse button in the map window with no items selected)
Map Window local command:


| | |
| --- | --- |
| If no Overlay has already been created: | If an Overlay already exists: |
| | |

select Overlays from the local menu of a SIS Workspace Definition (SWD) on the Maps Control Bar.

Maps Control Bar: 
Place the cursor over the required map and click the right-button: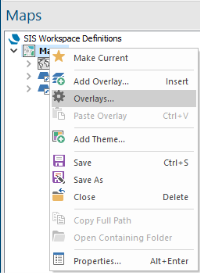 Keyboard:
Press F2 on keyboard.
Any of the above methods opens the Overlays dialog: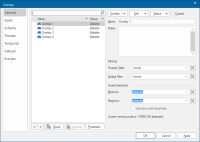 ---